Announcing The Campaign For Ursuline
"ACT...MOVE...BELIEVE. Strive, hope, cry out to God with all your heart, for without doubt you will see marvelous things..."
These words from St. Angela Merici, founder of the Ursuline Order, have inspired a pivotal moment in the history of Ursuline Academy of Dallas.
Today I am excited to formally announce The Campaign for Ursuline: Act, Move, Believe. This campaign embraces and enables Ursuline's vision for the future of our school, as we prepare for incredible growth, innovation, and leadership in the education of the young women we serve, today and for decades to come.
The campaign is Ursuline's most ambitious ever and truly comprehensive, providing for all philanthropic needs to support Programs and Operations (The Ursuline Fund and Scholarships), Endowments, and Capital Improvements. We are tremendously grateful for generous early gift commitments of $55M, a very strong start toward the total campaign goal of $85M.

Thursday, September 17 is UA Giving Day and the public launch of The Campaign for Ursuline: Act, Move, Believe, and we invite the entire Ursuline community to participate. We hope you will consider being part of this extraordinary effort to assure that the Ursuline mission in Dallas will flourish for decades to come.
Ursuline's actions in recent years have been guided by the imperatives established with our current Strategic Roadmap – the end result of a holistic strategic planning process in 2016. Informed by this roadmap, Ursuline has maintained a strong focus on its three school-wide priorities -- personalized learning, student well-being, and community and inclusion.

I am so proud of all the great work that has been accomplished in each of these areas, across our organization. We have achieved significant growth in our curriculum design, instructional practices, well-being programs, and more. And we are seeing the results driven by major investments in faculty recruitment and training and strong leadership.

None of this would have been achieved without the support of an engaged and caring community. Now, to realize the full promise of our Strategic Roadmap, we are moving forward with our campus master plan. And we are excited to reveal big plans for the beautiful Ursuline campus.

New learnings require new spaces: maker spaces, innovation hubs, larger learning studios for more collaboration and teaming, online spaces, "students at work" rather than "classes in session," corridors into library-like spaces of student ownership, shared spaces for interdisciplinary learning and multiple functions, and mobile furnishings.

For three years, Ursuline has been working to develop a plan for campus improvements that will provide the spaces necessary to fully enact our educational vision.

This thorough and diligent process has involved hundreds of conversations with our architects and academic leadership. Every element of our plan reinforces and enhances the programmatic priorities that are so very important to ensure today's Ursuline education prepares our students for tomorrow's challenges.

The resulting plan envisions the most significant changes to Ursuline's campus to date, adding 90,000 square feet of new facilities and renovating a number of existing spaces. With 70% of the funding goal raised for these capital improvements, we have broken ground on construction of a new East Campus and begun renovations to Haggar Center.

In the coming days, you will have the opportunity to take part in a "First Look Tour"of all that is planned for our campus, and also visit a virtual tour online.

These are incredibly exciting times! We are enormously thankful for your love of Ursuline, and our partnership with you. We look forward to sharing news of the Act, Move, Believe campaign as it evolves, and to keeping you informed of our progress.
Thank you for your invaluable support!

Yours in Christ,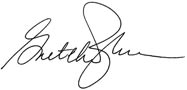 Gretchen Z. Kane
President